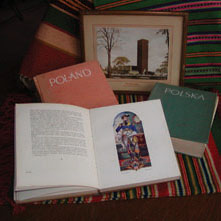 The Polish Center especially welcomes donations of historical and cultural materials, including books and periodicals that are in excellent condition and produced before 1950. Exceptions are made for historical items – such as Solidarity memorabilia – and artifacts of authentic folk art. Potential gifts are accepted at the discretion of the Polish Center Director (413-592-0001) with the understanding that there are no conditions attached to their disposition and that they are the legal property of the donor. Materials accepted must conform to the collection goals and policies determined by the Polish Center. The acceptance or rejection of materials may be dictated by the availability of adequate space. The donor understands that once a gift is delivered and accepted, it becomes the property of the Center, which reserves all rights to the material and its use.
In general, the Polish Center has no call for tourist souvenirs or objects representative of popular culture produced after 1950, objects that are damaged, deteriorating, or will not withstand the test of time. The Polish Center does not accept books that are heavily marked with notations, with brittle or yellowing pages, with mold, mildew, and odor.
Acknowledgements of gifts are provided by the Polish Center; however, law prohibits the Center, as the recipient of the gift, from providing donors with official appraisals of value. It is recommended that a professional appraiser appraise gifts, which the donor suspects are of significant value, before donating them to the Center. Please note that material donated should be appraised at fair market value and not original cost.
Screening of potential donations can be conducted over the telephone or by a member of the Polish Center, who may make a personal inspection. Because the Center is limited by time, staff and funding, donors are encouraged to make arrangements to deliver their materials personally.