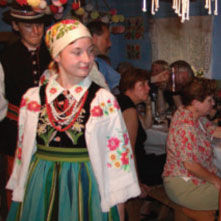 The Polish Center of Discovery and Learning, a place to discover and learn new things about Poland and its people, was officially established at Elms College in February of 1999. Renovations were made to the former library on the third floor of Berchmans Hall, creating an office and inviting community meeting space for lectures and long-term exhibits. After the completion of renovations, 240 friends of the Center attended an official opening celebration held on June 3, 2000. The theme of the opening festivities centered around the Polish Golden Age, a time when Poland's especially favorable cultural, economic and political climates attracted entrepreneurs, educators, architects and artists from all over sixteenth century Europe.
The Polish Center expressed its gratitude to Rep. Richard E. Neal for recognizing the Polish Center in the Congressional Record of the United States; Proceedings and Debates of the 106th Congress, Second Session, Tuesday, May 23, 2000, to Mrs. Jennie Starzyk Benton, representing the Polish Women's Alliance of America, and to Mr. Tom Pniewski, the Kosciuszko Foundation (N.Y.). Chicopee mayor, Richard Kos, presented the Center with a City of Chicopee proclamation declaring 3 June 2000 "Polish Center of Discovery and Learning Day" and a special letter of congratulations was received from Rev. Raphael Zwolenkiewicz, President of the Polish American Congress of Western Massachusetts.
The menu consisted of foods that were familiar to the courtly palates of 16th and 17th century Poland.
Dill pickle soup with pearl barley (remember that potatoes were not introduced to Poland until after the Siege of Vienna in 1683) was served followed by royal pork tenderloin with apples, beef rolls with vegetable stuffing, kasha with mushroom sauce, creamed beets, and noodles with fresh cabbage.
The meal ended with honey spice cake and chrusciki. As a special treat a modest taste of Polish mead was offered as well.
The Center's guests were entertained in royal fashion by mezzo-soprano, Monika Krajewska, and the Connecticut Virtuosi Chamber Orchestra Ensemble with a program of 16th century Polish compositions of Mikolaj Gomolka and Waclaw z Szamotul. The Pavane Renaissance Dance Ensemble, dressed in colorful 16th century garb, delighted them with a variety of European dances from the period.
After the meal and entertainment, everyone was invited to the third floor of Berchmans Hall for the Polish Center ribbon-cutting ceremony. Sister Kathleen Keating, President of Elms College, welcomed the Polish Center warmly. Mr. Marek Lesniewski-Laas, Honorary Consul of the Consulate of the Republic of Poland (Boston), complimented the Polish Center on its efforts and commented on the remarkable history of the Polish people in Poland and the United States, the people the Center aspires to honor through its activities.