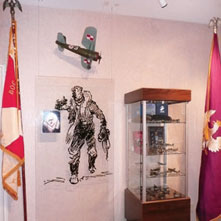 Whether you're a Polish-American who wants to preserve his or her heritage, or someone interested in promoting culture and preserving history regardless of ethnicity, the Polish Center of Discovery and Learning at Elms College invites you to become a member. The success of this very special center depends on a continued strong
expression of interest and support by friends of Polish culture.
The Polish Center of Discovery and Learning is a living monument that celebrates the many contributions, both past and present, made to the economy, arts, and sciences of our nation by Polish people and their descendants. The mission of the Center at Elms College is to preserve objects representative of the material culture of the Polish people in America; to provide guidance and support materials to schools and other institutions wishing to introduce Polish topics to their students; and to offer a variety of workshops, exhibits, concerts, conferences, seminars, films, plays, lectures and other events that focus on the history and cultural traditions of the Polish people in Europe and the United States.
Membership opportunities include:
Chopin Circle $1,000 and above
Kosciuszko Circle $500-$999
Sklodowska-Curie Circle $250-$499
Copernicus Circle $100-$249
Matejko Circle $50-$99
Mickiewicz Circle $35-$49
Become a Member now
Please include the membership level, by clicking on "Add special instructions to the seller" when paying online with a debit or credit card.
Checks should be made out to:
Polish Center
Mail to:
Polish Center of Discovery & Learning
33 South St.
Chicopee, MA 01013