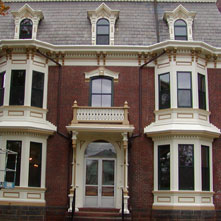 The Polish Center is now located in its new home on 33 South St., just a short distance from its former space at Berchmans Hall in the center of Elms College. The Polish Center has its own meeting rooms and galleries in addition to the Veritas Auditorium (seating for 900), the Borgia Gallery, the Alumnae Library Auditorium (seating for 200), and the Mary Dooley Center Dining Hall at the College.
We are excited to announce that this historic mid-nineteenth century building has been restored and is now being converted to serve the needs of the Polish Center. It will become a living monument that will bring to life the history and accomplishments of the Polish people in America to future generations.
To download information on the interior layout. Click here.

This download requires adobe acrobat reader.

View realtime webcam video of construction progress. Click here.